Hello Peeps
Many of us someday already killed a World Boss, bosses that drop Time Book and G9 SS.
Then, I made this little guide to show everybody where we can find the TBs of map.
Anyway, we have TBs in World Map, and Crono Maps 1, 2, 3 and 4.
Personally, I never killed Map2 bosses, so, if someone know where the bosses are, pls post here for me edit this post.
I didnt made the map for Crono Map Bosses but I will try explain where the boss is from entrance of each map.
I will check the coordinates after.
Btw, all bosses have:
Phy Atk - 17139 - 20567
Mag Atk - 7234 - 8681
HP - 23 977 103
Each boss drops 24 itens. The chance of drops are (good itens only):
Time Book - 1.4815%
G9 (same chance for all) - 0.8333%
As Follow: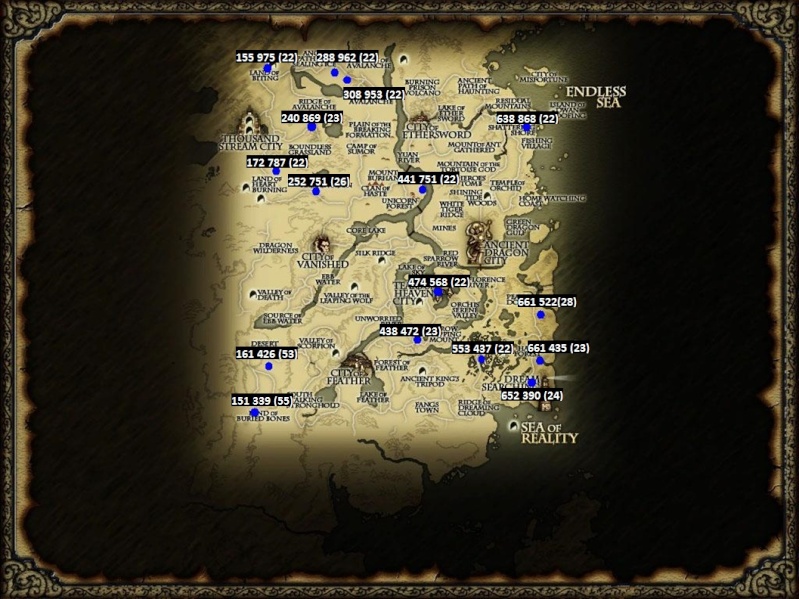 WORLD MAP
| | |
| --- | --- |
| 155 975 | Fetch Soulpresser |
| 288 962 | Deep |
| 308 953 | Puzzle |
| 240 869 | Enguerrand |
| 638 868 | Chilopod Terminator |
| 172 787 | Ghost Rider |
| 252 751 | Awler |
| 441 751 | Pterygota Warrior |
| 474 568 | Sword Demonic.Still |
| 661 522 | Shadow Shade |
| 161 426 | Alpha |
| 438 472 | Falchion Demonic |
| 553 437 | Obeaune |
| 661 435 | Soul Hunter |
| 151 339 | Apro.Shield |
| 652 390 | Aurumhorn Kingsof |
CRONO MAP 1
Slaughtry - Near Dream Scouts, from south of entrance. 367 471 (22)
Axemaster·Malphas - Near Decaptators/Iron Claw Reaper, from southwest of entrance. 346 456 (22)
CRONO MAP 2
Thunder Beast - from northwest of entrance, near culti mobs. I dunno the exact coords yet, around 324 607 (22)
Skeleton King.Scorch - from north of entrance, 364 610 (25)
CRONO MAP 3
Skeleton King.Atropine - from west of entrance, almost in the corner of map. 420 572 (22)
Gaia Fighter - from northwest of entrance. 477 622 (24)
CRONO MAP 4
Daricon - from southeast of entrance, near of entrance. 461 523 (52)
Frost City Guard-0 - from southeast of entrance, almost a straight line from Daricon. 477 476 (55)
I hope u enjoy it ^^